About Us
The German School Association (Deutscher Schulverein) of Greater St. Louis, Missouri is an independent nonprofit corporation providing superior German language instruction and exposure to German culture, customs and traditions for children and adults in a professional, collegial and friendly setting. Students learn in a supportive environment that nurtures curiosity and creativity and fosters global awareness, and provides an international and intercultural environment and a forum for American-German friendship. The goals of our education are multilingualism, tolerance, international understanding, and openness to the world.
History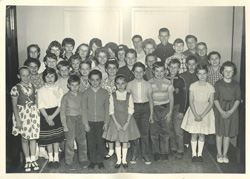 In the early 1960's, the immigrant population of St. Louis consisted of a large number of families of ethnic German descent. Many of these families immigrated here to escape the communist regimes taking control of Eastern Europe after World War II. While many of the first-generation American children born to these families could speak German, they could not read or write their ancestral language in order to effectively communicate with their relatives still residing in Europe. Seeing the need for German language education in the area, Andrew Roeslein, along with the late Conrad Geislinger and Jakob Thalheimer, founded the German School Association of Greater Saint Louis (the "GSA") in 1962. Mr. Roeslein served as the school's first principal. The GSA was incorporated in 1967 as as a Missouri Nonprofit Corporation with six directors (Charlotte Bartl, Conrad Geislinger, Erich Jenke, Andrew Roeslein, Jakob Thalheimer and Peter Schuster). Jakob Thalheimer served as the school's first President, with Rudolf Sterzl, Charlotte Bartl, and Erich Jenke serving as Vice President, Secretary, and Treasurer respectively.
The school grew in size and popularity and soon people of all ethnic backgrounds began sending their children to learn the German language. In the mid 1980's, rising demand for German language education for adults prompted the GSA to begin offering adult classes. The adult classes became so popular that in the 2006/2007 school year, the number of enrolled adults exceeded the number of enrolled children for the first time in the school's history. As the German School Association approaches its sixth decade of classes, it continues to evolve and improve to meet the needs of its expanding student body.